Click here to view original web page at www.itemonline.com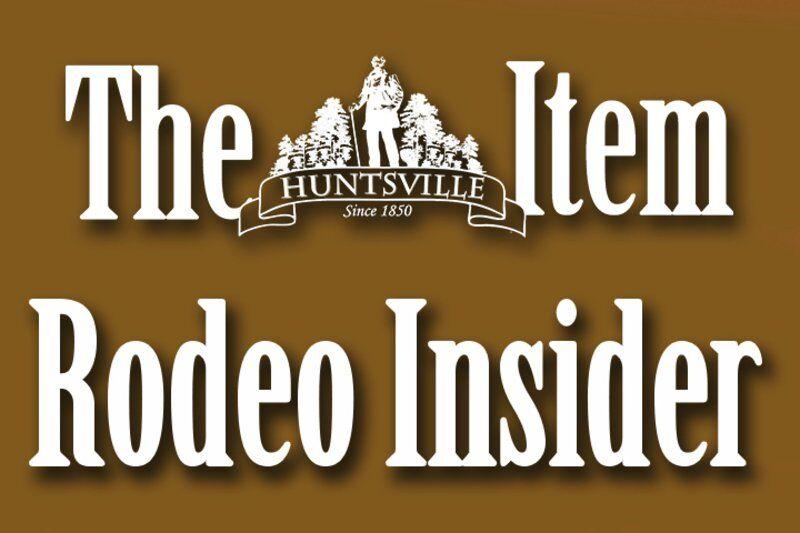 Six-time National Finals qualifier Colby Lovell, a Huntsville native and a Sam Houston State graduate who lives in Madisonville, tied for first in the team roping title race with the help of his partner, Paul Eaves, at the Aug. 5-8 Sikeston Jaycee Bootheel Rodeo in Sikeston, Missouri, with a time of 4.3 seconds. Lovell is ranked No. 3 in the PRCA's 2020 team roping heading standings.
Lovell and Eaves also tied for seventh in team roping at the Aug. 5-8 Buffalo Bill Rodeo in North Platte, Nebraska.
A NEW RODEO FAMILY STORY
Year after year, rodeo offers heartwarming family stories.
The sport has its prominent families such as the Clifton Smith and Stran Smith clan from Childress. There's the Jimmy and Trevor Brazile family from the Dallas-Fort Worth area.
There's the Roy Cooper family from the DFW area. His three sons--Clint, Clif and Tuf--each have qualified for the Wrangler National Finals Rodeo in Las Vegas and Tuf has earned four world titles on the Professional Rodeo Cowboys Association circuit.
But there's another Texas rodeo family that's not so well known but has it going on these days. That's the Kirby Berry family that is from the DFW area.
Twenty years ago, Berry could spur a rampaging bronc in dramatic fashion on the PRCA circuit. The 47-year-old Poolville businessman was a top 25 bareback rider in the PRCA's world standings.
Today, his two sons, Leighton and Kade, are walking in his boot steps. Leighton Berry, 21, is ranked in the top 10 in the PRCA's 2020 bareback riding world standings and is on pace to earn his first trip to the Wrangler National Finals Rodeo in Las Vegas. Kade Berry, 17, finished fourth in the bareback riding title race at last month's National High School Finals Rodeo near Oklahoma City.
If that's not enough, his 19-year-old daughter, Maci, has been a break-away roping competitor to be reckoned with on both the high school and pro circuits.
Kirby Berry's two sons have had the advantages learning bareback riding from their father and from having access to other accomplished bareback riders such as former National Finals qualifier Pete Hawkins. Berry also is in the construction building business and he has put up rodeo practice facilities for his family over the years.
Both Leighton and Kade Berry began riding bareback broncs as teenagers. Last year, Leighton Berry competed at the College National Finals Rodeo in Casper, Wyoming, for Weatherford College and finished fifth in the National Intercollegiate Rodeo Association's bareback riding title race. He also qualified for the College National Finals this year while competing for Tarleton State, but the 2020 championships were cancelled because of coronavirus concerns.
But while he was competing on the collegiate circuit this past school year, his pro career exploded during the early season on the PRCA circuit. For example, he had a strong finish at the San Antonio Stock Show Rodeo in February and recently tied for first in bareback riding at the Parker County Frontier Days And PRCA Rodeo Weatherford.
Kirby Berry said Leighton thrives because of hard work and extensive preparation.
"He loves the competition of it and he loves being in those pressure situations because he's a pretty cool calm, collected character," Kirby Berry said.
In addition to having a physical fitness regimen, Leighton Berry, who is from Weatherford, said mental preparation has made a big difference.
"I have a big white board in my room at home that I Iook at every morning," Leighton Berry said. "It's got all of my goals and my steps on how to make those goals become a reality."
In bareback riding, competitors are scored by the judges on how well they rhythmically spur a bronc from the point of his shoulders to the rigging, jump for jump. Kade Berry said riding a bronc correctly is physically demanding.
"It's like lightening striking in the same spot over and over," he said. "It's fast and you can't really see much. It's using every single muscle you can and just putting together a great spur ride."
PBR UPDATE
The Professional Bull Riders' Unleash The Beast, the association's top tier tour, is scheduled to stop at the Lazy E Arena near Guthrie, Oklahoma, on Friday and Saturday, Aug. 14-15.
Former PBR World Finals qualifier, Jose Vitor Leme, a Brazilian who lives in Decatur, is ranked No. 1 in the PBR world title race with 827.5 points. Former World Finals qualifier Joao Ricardo Vieira, another Brazilian who is from Decatur, is ranked No. 2 with 595.25. Defending world champion Jess Lockwood is No. 3 with 543.5.
A World Champions Rodeo Alliance performance is scheduled in conjunction with the PBR's UTB show on Aug. 15 at the Lazy E Arena.
The PBR also has scheduled a tour stop in Fort Worth, Texas. The UTB show is scheduled for Aug. 29-30 at Dickies Arena.
PRCA circuit update
The PRCA's Ram National Circuit Finals Rodeo has been moved to Greeley, Colorado, and it's scheduled for Sept. 10-13, according to prorodeo.com. The rodeo originally was scheduled in April in Kissimmee, Florida, but was cancelled because of COVID-19 concerns.
Brett Hoffman, a Texas Cowboy Hall of Fame member, has reported on rodeos and horse shows for the Fort Worth Star-Telegram for more than 35 years. Email him at [email protected].
Brett Hoffman, a Texas Cowboy Hall of Fame member, has written a rodeo column for the Fort Worth Star-Telegram over the past quarter-century. Email him at [email protected].
Support local journalism.
We are making critical coverage of the coronavirus available for free. Please consider subscribing so we can continue to bring you the latest news and information on this developing story.
Originally published on www.itemonline.com