Click here to view original web page at www.itemonline.com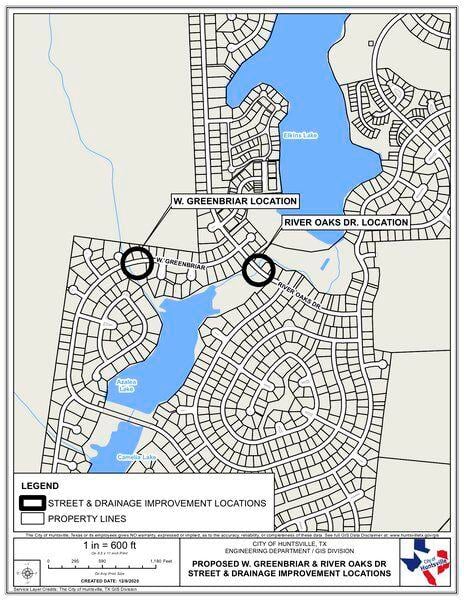 Huntsville plans to spend about $1.9 million next year as part of a flood-control strategy in the Elkins Lake subdivision, which is particularly vulnerable to stormwater.
The plan, which is expected to be presented to the Huntsville City Council tonight, includes improvements to drainage crossings and enhanced streets on West Greenbriar Dr. and River Oaks Drive.
City Engineer Y.S. "Ram" Ramachandra says that the city would be able to utilize $1,848,750 from a recently awarded from the Community Development Block Grant – Disaster Recovery program. The city will be responsible for funding about $54,865 in matching funds.
"The project locations have been experiencing frequent street flooding," Ramachandra said in tonight's agenda packet. "River Oaks Drive experiences overtopping during even moderate rain events at the project location. West Greenbriar Drive has been experiencing constant street overtopping ever since Hurricane Harvey event during August 2017."
The funds will be utilized for design and construction of the improvements, which will involve providing improvements to existing drainage crossings, elevating the street up to two feet and improving upstream and downstream channels by providing grading and slope stabilization
Tonight, the city council will vote on awarding a professional services contract to RPS Infrastructure at a total of $246,650 for survey, design, coordination with GLO, FEMA and Elkins Lake Rec Corp and bidding and construction support services for the project.
The project design is anticipated to be completed and be ready to advertise for bids in August or September 2021.City officials say that the conceptual cost of construction of the proposed drainage and street improvements is in the $1.6 million range.
Other action items expected to be presented to the Huntsville City Council includes:
• consideration of a Chapter 380 agreement with Wischnewsky Huntsville, which would commit the city to spending approximately $320,000 towards an expansion of Parkwood Drive. The local auto dealer is planning to construct a new dealership adjacent to the road. The agreement would also waive approximately $40,000 in permit fees for the developer.
• consideration of purchase orders totaling $1.79 million for new city vehicles.
• awarding a $449,264.82 contract to HBI Office Solutions, Inc. for furniture at the new police headquarters and fire station.
MEETING INFORMATION
Tonight's meeting of the Huntsville City Council is scheduled to begin at 6 p.m. at Huntsville City Hall. A livestream of the meeting will be available at www.itemonline.com or at www.huntsvilletx.gov.
Support local journalism.
We are making critical coverage of the coronavirus available for free. Please consider subscribing so we can continue to bring you the latest news and information on this developing story.
Originally published on www.itemonline.com