Click here to view original web page at www.itemonline.com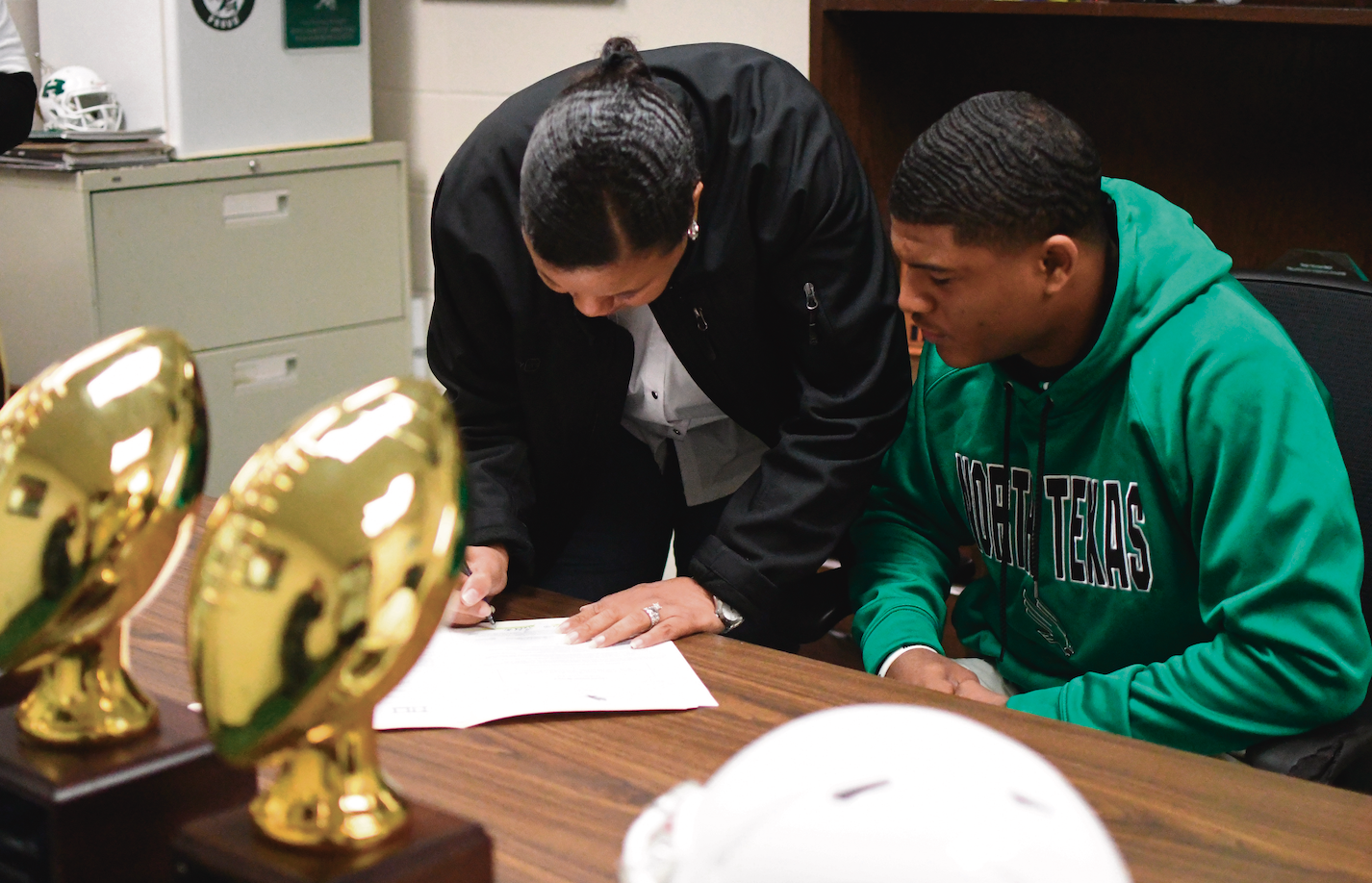 Jordan Brown made his commitment to play college football at North Texas before the 2019 season, but his journey with the Mean Green didn't officially begin until late last month.
The former Huntsville standout arrived in Denton on June 22, and has been working out with the team since. Brown notes that outside of some early jitters, everything has "been really good."
"When I first started working out I was kind of nervous, but then you find out it's kind of like high school," he said. "It's a little more intense, but you just have to be mentally strong and it's all the same."
Brown, who shared honors as District 10-5A, Division II's Defensive MVP last season, recognizes that his time with the Hornets helped prepare him to take his talents to the next level.
"That program played a big part in this," he added. "With that program, you have to be mentally tough to get through some of the things ... and that's helped me get through these workouts in college."
The versatile linebacker led the district's top defense in 2019, recording 97 tackles, four sacks, 12 tackles for loss, two interceptions, one fumble recovery and one defensive touchdown in nine regular season games. He proceeded to come up big in the postseason, helping the Hornets notch a pair of playoff victories.
"There's so much that Jordan does that nobody knows about," Huntsville head coach Rodney Southern said after last year's area round win over Crosby. "A lot of his stuff on kicking game is critical. Jordan is a natural football player and a great leader. He doesn't say it a lot, but it shows. Id' love to have 10 more just like him."
Brown's Huntsville career coincided with an uptick in community support for the program, with the Hornets going on their deepest playoff run in 28 years during his junior season. He credits the fans for helping push the Hornets to five postseason victories in a two-year span.
"Everyone rallied around us, even for away games that were three hours away," Brown remarked. "You hadn't seen that in years at Huntsville, so seeing that community come together played a big factor in us playing hard and going far."
As Brown looks forward to his next chapter, he does so with more than football in mind.
With aspirations to "be a business marketer for a major company like NIKE or an NFL team" one day, Brown was immediately drawn to North Texas' business program.
"The education that I'll be getting from the University of North Texas — they have a really good business program, which I want to major in — played a big factor in why I committed here," he said.
As for Brown's future on the football field, the COVID-19 pandemic has cast a cloud of uncertainty over the 2020 season. However, he's managed to stay in shape — and ready — for whatever lies ahead.
"Just working out every single day," Brown said of his biggest focus in recent months. "Pushups, anything, just doing something daily. Then I'd be going to the field and running every single day. I knew they were going to test us when we got here, so you'd either be in shape or they'd see who hasn't been working."
Brown notes that by sticking to a daily workout regimen, as well as leaning on his experiences with the Hornets, he wasn't fazed by the start of his first summer workouts at the college level.
"I thought it was going to be pretty taxing, but I felt like I was ready," he added. "It didn't feel like anything was too much, it just felt good."
While it is yet to be seen if or when the 2020 college football season will be played, Brown is excited for the opportunity that lies ahead.
He's placed an emphasis on getting more physical and explosive in the coming months. And in doing so, he hopes to carve out a spot on the field as a true freshman.
"The coronavirus has set everyone back, so everybody is at an equal playing field," Brown said. "It's about who can work harder."
Support local journalism.
We are making critical coverage of the coronavirus available for free. Please consider subscribing so we can continue to bring you the latest news and information on this developing story.
Originally published on www.itemonline.com