Click here to view original web page at www.itemonline.com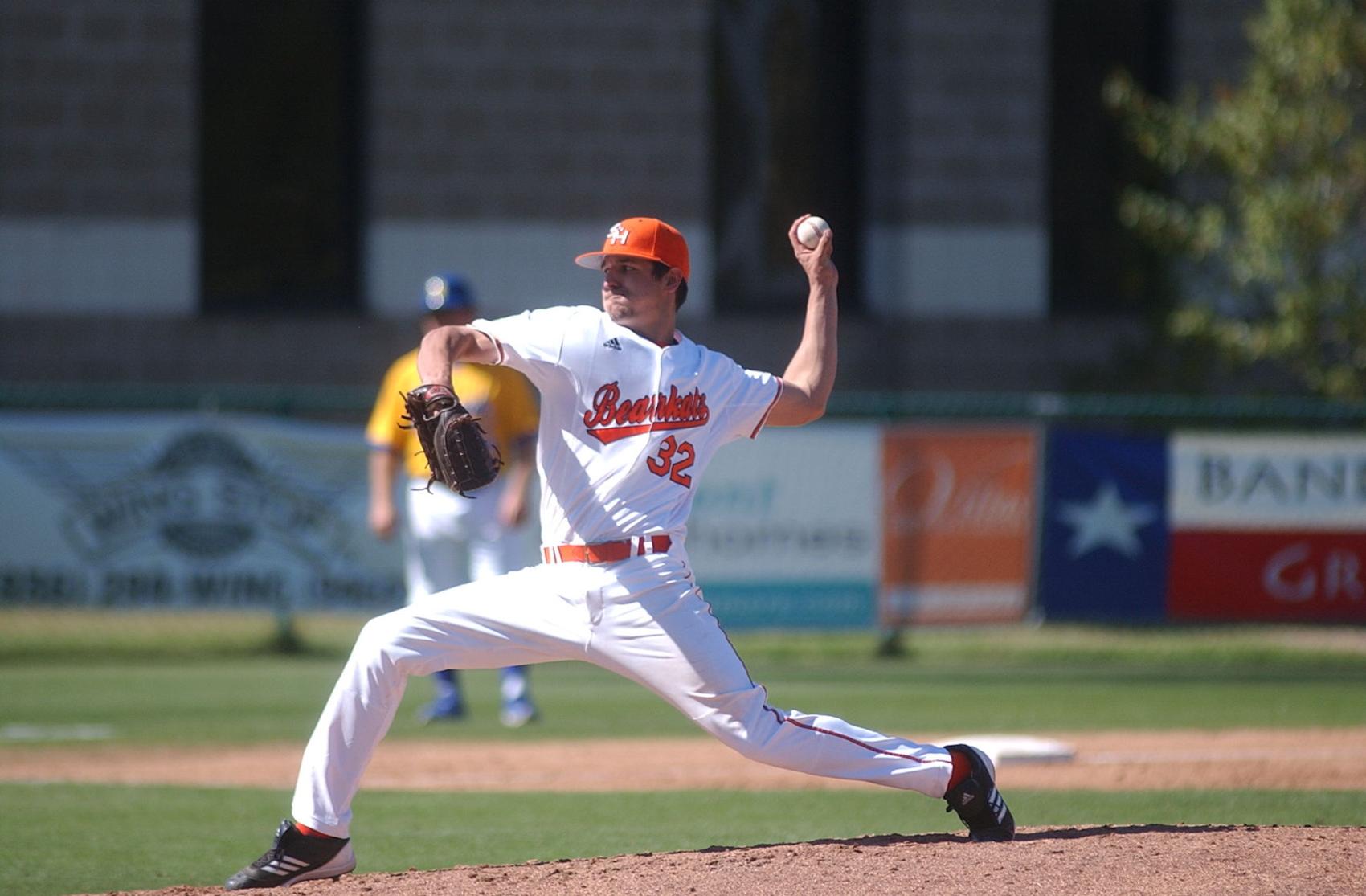 It's estimated that less than 1% of senior high school baseball players will go on to be drafted by an MLB team one day, with the chances of eventually reaching the majors being even slimmer. But for Miami Marlins pitcher Caleb Smith, there wasn't another option.
The Huntsville native and Sam Houston State standout dreamt of playing professional baseball for as far back as he can remember. Now, 10 years removed from his days dominating on the mound for the Huntsville Hornets — and two Southland Conference championships, several years in the minor leagues and a few hurdles later — he's living out that dream.
"I've always had faith in myself," Smith said. "Even growing up as a little kid, my dad asked what I wanted to do when I got older, and I said that I wanted to be a professional baseball player. I've always had that in my mind and in my heart, and I never gave up on it. People would ask me what my fallback plan was, because the odds of making it aren't that good. And I was like, 'Well, I don't really have a fallback plan.'"
Smith — who made his MLB debut with the New York Yankees in 2017, and has started 44 games over the past two seasons with the Miami Marlins — is currently awaiting the start of the 2020 season, which has been pushed back due to the COVID-19 pandemic.
A handful of details and logistics still need to be worked out before a long-anticipated opening day can take place. However, Smith remains optimistic about the prospects of getting back on the field.
"I have a pretty good feeling that we'll get back to the game soon," he said. "I'm chomping at the bit to get back to competing, doing what I love and giving the fans some entertainment. That's what it's all about for me, and I'm excited to get back to it."
In the meantime, Smith has been back home in Huntsville, trying to make the most of these unprecedented times.
As he prepares to head back to Miami in anticipation of the season, he admits that it's hard to believe it's been a decade since he was wrapping a prolific high school career with the Hornets.
"It's crazy to think that was 10 years ago ... it feels like it was last month," Smith said. "The things that stick out to me the most are the bus rides with my teammates, just jacking around having fun. I still remember our last game. I think it was against Magnolia, and I remember before I struck the last guy out on the last pitch, I stepped off the rubber and was like, 'Man, this is my last pitch in high school baseball. This is the last time I'll get to play with these guys.' It's crazy to think back to that."
Smith didn't have to go far to continue his playing career. Despite receiving a handful of scholarship offers, he elected to stay in his hometown and play for Sam Houston State.
The decision paid off — he won a pair of Southland titles, reached the NCAA Tournament twice and earned all-conference honors during his time on campus, all while getting to play every home game in front of his family.
"It was really cool going to Sam," he said. "I had offers from other schools, but what really sold me on it was my family being able to come watch every game. My dad, my mom and my step mom loved to come watch me play, and I knew going there they'd have the opportunity to watch me more. … I definitely made the right decision and I wouldn't change it for the world."
Smith's success as a Bearkat garnered the attention of MLB scouts, culminating with a moment in June 2013 that he'll never forget.
"I was at my house," he recalled. "Those three days of the draft weren't a good three days for me. I was projected to go higher than I went, so on that last day I was kind of depressed. I had stopped listening to it, but we were all at the house and my dad kept listening to it, and all of a sudden the Yankees called me.
"As soon as I got drafted, all the worries went away. I wasn't upset anymore, it was just about making it. I still remember it to this day. It was a dream come true for me."
Getting drafted marked the start of a new journey for Smith, who spent the next several years working his way through the minor leagues.
It wasn't easy — living on the road, in and out of hotels, with 10-plus-hour bus rides to games becoming the new normal. He recalls times they would pull up to the stadium at 4 a.m. and not even check into a hotel, they'd just start getting ready for the next game.
However, Smith looks back on these years fondly, noting that his time in the minor leagues was some of the most fun he's had in baseball. When pressed to name a favorite stop in the minors, he points to a stint with the Single-A short season Staten Island Yankees.
"Right when I got drafted I went to the short season team in Staten Island, and that was my first experience in professional baseball. It was unbelievable," Smith said. "The fans there were awesome, my teammates were awesome and the backdrop of the stadium is beautiful. You have the skyline in the background and can see the Statue of Liberty from centerfield.
"It's just amazing. It's one of the best stadiums in minor league baseball, and I was fortunate for that to be our home field."
Smith made his MLB debut with the Yankees on July 17, 2017, and would be used primarily out of the bullpen for the remainder of the season. Smith had his share of struggles during that year, admitting that it was difficult to "get in a rhythm and stay consistent when you're pitching to the best hitters in the world every 10-12 days."
An offseason trade to Miami marked a new opportunity for Smith, who when healthy, has been a regular fixture in the Marlins' starting rotation for the past two seasons. After battling injuries — shoulder surgery cut his 2018 season short, while a hip issue disrupted a promising start to last year — Smith is excited for the chance to get back on the field at full strength.
"Once I got traded to the Marlins I knew I was going to have a real opportunity to establish myself, and I feel like that's what I've done so far," he said. "There have been a few bumps in the road and I've faced some adversity, but I've come back strong and I'm happy with where I'm at."
While Smith has developed as a player over the course of the past decade, he also notes that many of his tendencies on the mound remain the same.
His passion for competition has stayed constant as well.
"Just the competition," Smith said when asked what he enjoys most about playing in the major leagues. "You're going up against the best baseball players in the world. You're facing Aaron Judge, Mike Trout, Bryce Harper, Christian Yelich, all those guys.
"When you get them out you're like, 'Man, I just got out one of the best hitters in baseball.' It's still crazy to me, and it's a lot of fun."
Support local journalism.
We are making critical coverage of the coronavirus available for free. Please consider subscribing so we can continue to bring you the latest news and information on this developing story.
Originally published on www.itemonline.com