Click here to view original web page at www.itemonline.com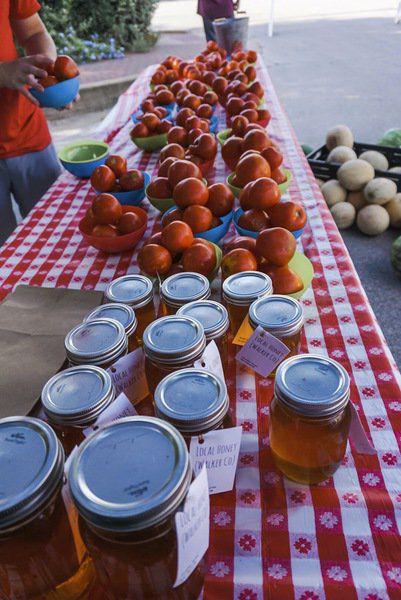 As the economy begins to reopen, the Downtown Huntsville and Walker County farmers markets will both kick off their selling season this Saturday.
Over at Rather Park on University Avenue , The Downtown Huntsville Farmers Market will have about 15 vendors this season, selling jams, jellies, vegetables, baked goods and crafts. The Walker County Farms Market will also open on Saturday in the parking lot at West Hill Mall.
"It's definitely going to be interesting, we have no idea what the public's opinion on events like this are right now. A lot of communities have continued farmer's markets as essential businesses, because they do provide food and groceries," Main Street program director Tracy Chappell said.
Brian Hunziker of Hunzikers Farms has already sold at other farmers markets this season with COVID-19 and has no concerns at this time.
"The outcome is that people are starting to realize, 'hey, let's go back to farm to table,' and it's actually helped our business out a lot. I think it's because they're starting to realize all of the things that they're putting in foods. It's opened up a lot of eyes to people of what's been going on and it's been shaded out," said Brian Hunziker, who will be selling his produce at the downtown market.
According to the CDC, the coronavirus is thought to originate from a large seafood and live animal market in China. While the farm-to-table movement has been on the rise for many years, Hunziker notes that as a local farmer, he is reaping the benefits more than ever.
"We've actually done a lot of online selling since COVID, and the reaction has been tremendously great. I think once people realize what we provide and everything, it will actually help bring a lot more people to the downtown market," Hunziker said.
Bulk boxes are available with the farmer's choice of assorted home grown items. It's a resource that has helped his customers have access to fresh produce without having to risk a trip to the grocery stores.
"It's something we started just during the COVID because we had produce coming in and no way of moving it," Hunziker said.
The COVID-19 pandemic has had devastating effects on small farmers across the nation, as supply lines have been cut between them and local restaurants during closures.
"Local has to support local or we won't have local. If you don't support your local people, they will eventually go under," Walker County Farmers Market vendor Margaret Bailey said.
However, as part time farmers, Hunziker and Bailey remain unaffected at this time. As a full time culinary arts teacher with Lee College Huntsville Center, Hunzikers Farms is a side hobby for Hunziker.
Beginning to grow just six or seven years ago, Hunziker has been selling with the Downtown Farmers Market for five years. He now grows tomatoes, cucumbers, squash, potatoes, onions, peas and green beans on his 2.5 acre farm. Hunziker Farms is also well known for their selection of pickled goods.
The Walker County Farmers Market is also a side hobby for Bailey. As a retired school teacher, the market helps supplement her retirement income.
"The great thing about (the Walker County Farmers Market) is that you have to raise it to be able to bring it to the market. In other words, you can't go to Houston or anywhere to purchase it and bring it back and resell it. You have to grow it," Bailey said.
Visitors of the Walker County Farmers Market will find a selection of homegrown produce, baked goods and plants.
"Our gardens have done really well and everybody's got stuff that they need to sell," Walker County Farmers Market president Paula Mason said, adding that many vendors' prices are comparable if not not lower than grocery stores, and that some vendors sell items specific to the area that can be difficult to find elsewhere.
Bailey sells an assortment of peas in addition to cucumbers, okra, squash, zucchini, several kinds of peppers and tomatoes, all grown in her backyard garden. This year will also see the new addition of watermelon and cantaloup at her stand.
"It's gone from my children helping me to now my grandchildren helping me," Bailey said. "They have been out (at the farmers market) since they were very little … They have really learned from this, they've learned of the work that is in the garden, the pleasure it is in the garden. Just putting a seed in the ground and seeing it mature and start producing is such a blessing."
Bailey has been canning and gardening for most of her life as a hobby and a way to feed her family.
"It just (takes you) back in time, like it's fresh and it's ready and it's almost like eating it fresh out of the garden – it is eating it fresh out of the garden," Bailey said.
The downtown market will be open from 8 a.m. to noon each Saturday through July, while the county farmers market will be open from 8 a.m. until the product sells out on Saturdays and Wednesdays.
Social distancing measures will be required at both markets for the safety of everyone involved. The Walker County Farmers Market notes that only one customer can be at a booth at a time, and will only allow the booth operator to touch and bag the items. The downtown farmers market also asks that all visitors wear face masks.
Support local journalism.
We are making critical coverage of the coronavirus available for free. Please consider subscribing so we can continue to bring you the latest news and information on this developing story.
Originally published on www.itemonline.com