Click here to view original web page at www.itemonline.com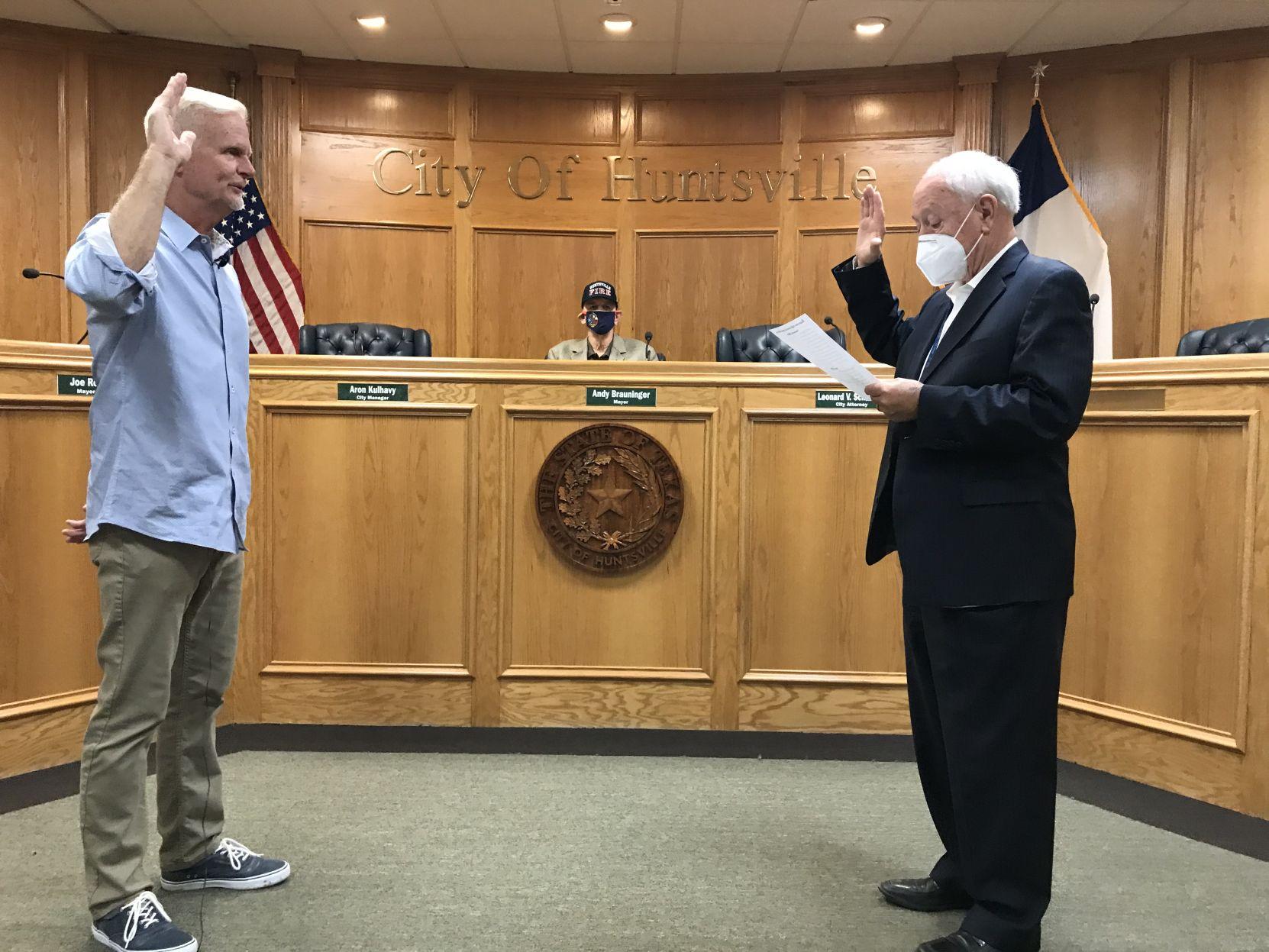 Walker County Judge Danny Pierce administered the Oath of Office and Statement of Officer to newly appointed councilmember Bert Lyle on Monday in the City of Huntsville Council Chambers with Mayor Andy Brauninger watching from the dais.
Lyle was appointed to City Council on May 5, to fill the vacancy in the remaining term for At-large Position 1 following the resignation of Paul Davidhizar.
Lyle first arrived in Huntsville in 1974 to play basketball at Sam Houston State University. Lyle did not make the team. But chose to stay in Huntsville.
He began working at the Jolly Fox the year the venue opened as a DJ and bar back in 1975. His career at SHSU ended in 1976, even though the dean of admissions, Sam Bass, was his uncle. However, that has not stifled Lyle from being a true Bearkat supporter from day one, and he still loves the Kats.
Lyle returned to his hometown of Denton and attended barber school in 1976. He came back to Huntsville, the town he loves, in 1977. In August of 1977, Lyle opened the Facemaker, which was voted this year as the #1 salon and spa in the state of Texas by Lux magazine! His salon has been also voted "Huntsville's Best" 29 times in the Huntsville Item.
Lyle and his wife, Susie, played a role in the creation of Alpha Omega Academy over 20 years ago and 16 years ago God allowed Lyle to begin the first "Bridge" ministry for the homeless downtown Houston. That missionary has grown with two more sites, one in Houston and one in San Antonio.
Lyle is the father of three adults, that he gives Susie most of the credit for, and grandfather of two, he lovingly has named "Thunder and Lightning".
The salon has 29 independent contractors, who are his "other" family, and now with "the Best hair salon manager in Texas" Debra Martinez, Lyle has a bit of freedom to give back to this community that has supported the Facemaker through good and bad.
Lyle admits that six weeks of closure during the pandemic was hard, prayers were answered when he was able to reopen for our friends, clients, and the community we love with the highest level of safety measures possible.
City Council will meet virtually Tuesday, May 19th. Watch the meeting from a computer, tablet, or smartphone at here. An electronic copy of the agenda can be found here.
Support local journalism.
We are making critical coverage of the coronavirus available for free. Please consider subscribing so we can continue to bring you the latest news and information on this developing story.
Originally published on www.itemonline.com