Click here to view original web page at yellowhammernews.com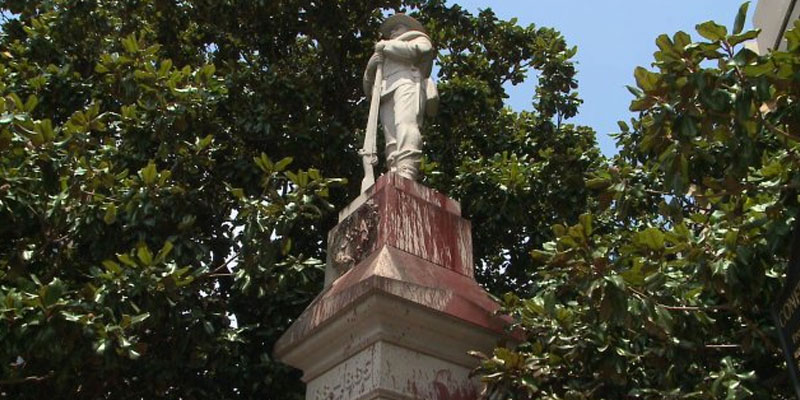 Alabama is obviously not immune from the racial strife gripping the United States. In recent months, we have seen statues come down, a state representative attended a birthday party for Nathan Bedford Forrest, small riots and acts of vandalism.
Like most Americans, Alabamians have generally accepted that the Confederate memorials all over the state on courthouse squares and in public parks are going to come down. Some are headed to cemeteries, some are headed to storage, and the fate of many is still unknown.
In Madison County, the Huntsville City Council and the Madison County Commission have both voted to move its controversial Confederate statue, and a new resting place at Maple Hill Cemetery has been selected. However, the monument still remains.

That monument was vandalized last week, and Madison County Commission Chairman Dale Strong did not want to use taxpayer resources to clean it up, so it stands defaced and ugly near the steps of the Madison County Courthouse.
Strong appeared on WVNN's "The Dale Jackson Show" on Monday and made it clear he wasn't going to clean it up or force county employees to do so, but he hinted that if someone wanted to clean it up in the dead-of-night, like when it was vandalized, they should have at it.
In the interview, Strong voiced frustration with recent reporting that indicated he and the Madison County Commission have not reached out to Attorney General Steve Marshall's office seeking a way to remove the statue and pay a $25,000 fine.
The commission views this as a non-starter. Strong believes attempting to "negotiate" breaking the law is a violation of his oath of office. Instead, he "filed an application of waiver with the committee based on a law that was written in 2017," he advised.
Strong is worried about precedent, saying, "[T]here's a lot of hesitation in contacting the attorney general. What happens if the next time someone that somebody desires to remove the name Jefferson Street, Washington Street or they don't like the name on a building? What do we do? Just go in here and let somebody set a fee, pay the fee, and say hey just remove whatever you want to?"
My takeaway:
This is what should be done. The Alabama Memorial Preservation Act is the law of the land and it has been upheld.
Obviously, Chairman Strong is right. The law needs to be followed, and if it is unwieldy, change the law. If you don't, we will be seeing attempts to move historic markers, veterans memorials and the like that are followed by the presentation of a cartoonish $25,000 check.
Society cannot just ignore the laws we dislike and pay a fine and move on. The precedent is bad, and the Madison County Commission and its chairman want no part of it.

Listen:
Dale Jackson is a contributing writer to Yellowhammer News and hosts a talk show from 7-11 AM weekdays on WVNN.
Originally published on yellowhammernews.com