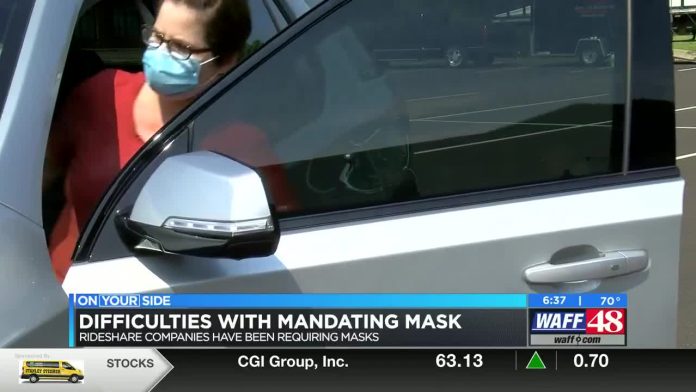 Click here to view original web page at www.waff.com
DEMUXER_ERROR_NO_SUPPORTED_STREAMS: FFmpegDemuxer: no supported streams
HUNTSVILLE, Ala. (WAFF) - As the debate continues across Alabama for and against a mask mandate, one of the main questions is would it even be possible to enforce a mask requirement?
Uber and Lyft drivers have had to mandate masks since early May, but Leigh Ann Browne, a driver for both companies, said that is easier said than done.
Browne said many of her riders do not have a mask when they get in her car and even when she provides people a mask they still do not want to wear it.
"I'm not an angry person but it makes me kind of upset that that's the way they're going about it," Browne said. "Because it's just not mine, where else are they going in the city that they could be with people, more people, their families. Don't they care about their families?"
Browne said it's tough to confront people about the issue because she doesn't want to get a bad rating and potentially lose future business.
Browne says she may get to a point where she stops driving all together, because she needs to think about her own health if she's going to have riders not wearing masks. She's hoping the government can step in and make masks a requirement to keep everyone safer.
Originally published on www.waff.com