Click here to view original web page at www.itemonline.com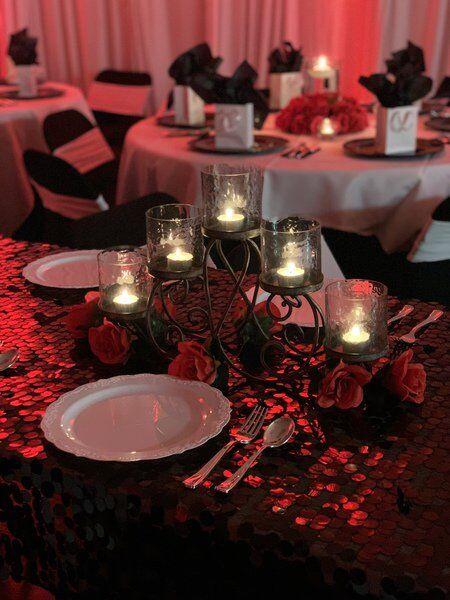 While the coronavirus pandemic has made time feel like it's standing still, life has continued on. Celebratory milestones like baby showers, bridal showers, anniversaries and birthdays have kept Huntsville's new party planning service and event venue, Royal Event Center, open for business.
Despite opening in the midst of the pandemic, Sharika Smith's business is thriving, with bookings already filling up for 2021 as families strive for semblance of a normal life.
"My godson is a senior this year and I couldn't even imagine not having prom and not having graduation, so just to see some of these families when they come in and, even if it's just a small event, just for them to be able to see each other and have some sort of celebration does something for me," Royal Event Center owner Sharika Smith said.
Putting on beautiful family celebrations has always been a part of Smith's life, and now, she is sharing her love of celebrating life's special moments with the Huntsville community.
Royal Event Center is a one-stop-celebration-shop event planning service and venue, providing an affordable, completely customizable experience with almost everything needed for the perfect party.
The idea came from Smith's late mother, who put together all of her family's celebrations, while dreaming of one day opening her own event planning service and venue.
"We used to do family parties, and my mom was always the lady that made it pretty," Smith remembered.
The oldest of six kids, Smith recalls growing up on a tight budget, however her mother had a creative mind for DIY crafting that rubbed off on her. Smith would help her mother put together parties for family and friends. However, after her mother's passing last year, Smith has finally taken the dive to make her dream come true.
"It's funny because now that she's gone, it's like my creative just kicked into overdrive, and I was like, maybe we can decorate parties and people can pay us to," Smith said. "(Before), it was just kind of a pastime doing it for friends and family and it just kind of blew up to this."
After planning parties to be held at other local venues, Smith decided that this would be the year to take her business to the next level by opening her own space located in the Mystic Rays Shopping Center on Sam Houston Avenue. Accommodating 75-100 people, the venue is intimate in size, however, the possibilities to customize the space to meet the needs of any party are endless.
"We have a massive wedding collection, so you pick your theme, pick your colors, we pretty much set everything up and you just show up and have your party," Smith said, adding that guests only need to provide their own cake and food.
Smith strives to bring beautiful parties to life at an affordable price for everyone, helping clients find options to cut corners on their budgets while having a special event to remember.
To book an event with Royal Event Center, contact Smith at [email protected].
Support local journalism.
We are making critical coverage of the coronavirus available for free. Please consider subscribing so we can continue to bring you the latest news and information on this developing story.
Originally published on www.itemonline.com