Click here to view original web page at www.theclarion.org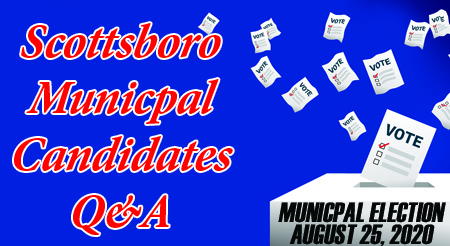 In an attempt to get as much information as possible to the voters in Scottsboro concerning the upcoming municipal election, The Clarion sent out a list of questions we found pertinent to the operation of city government and the city school board.
The positions are as follows: Scottsboro City Mayor: Robin Shelton / Jim McCamy; City Council Place 1: Greg Mashburn / Ralph Dawe; City Council Place 2: Patrick Stewart / Nita Tolliver / Dale Langella; City School Board Place 5: Julie Gentry / Gary Speers.
Candidates were given a 600 word limit on their answers, and within each office, they appear in alphabetical order. The answers have been edited for punctuation and grammar but not for content and do not reflect the opinion of The Clarion.
Click on the name of each candidate below to view their answers.

Scottsboro Mayor
Jim McCamy – Robin Shelton
Scottsboro City Council Place 1
Ralph Dawe – Greg Mashburn
Scottsboro City Council Place 2
Dale Langella – Patrick Stewart – Nita Tolliver

Scottsboro Board of Education Place 5
Julie Gentry – Gary Speers


JIM MCCAMY – Mayor
1.) What are three top issues facing the city of Scottsboro, and what are your solutions to those issues?
a. ECONOMIC DEVELOPMENT. First, we make sure Scottsboro is business-friendly. We have to clearly display we want and welcome growth and development. That includes reviewing our processes to make sure they are clear and accurate, so applicants know what is required going in. We have to ensure our inspection process and expectations are clearly outlined, customer-friendly and equally applied. Next, we make sure we take care of our existing local businesses and industries. This especially includes City Hall support to local businesses and contractors first. Business and economic recruiters know everything about a community before anyone in that community knows they are interested. Recruiters know if we support our existing businesses, industries and workforce, and if this is a location where their prospects can be successful. Then, we leverage and support our Economic Development Authority, regional experience and relationships to help identify and recruit new business and industry.
b. Deteriorating city streets. The City Council budgets money every year for street resurfacing, and the Mayor is responsible to see that it is done. In 3 of the last 4 years, budgeted money was left on the table. At this point in FY20 – an election year – paving is over the FY20 budget. We need a comprehensive paving plan that plans 3-5 years ahead that is available to the public. We can't leave budgeted money on the table at the end of the year. Additionally, we will aggressively pursue project-specific funding available through state gas tax revenue.
c. Scottsboro does not have a comprehensive plan. We will develop a plan that engages and includes all departments and stakeholders so it is functional and effective. A comprehensive plan is not one that just states what you plan to do tomorrow or in 5 years. A true functional and effective plan identifies issues (paving, infrastructure expansion and growth, economy), threats and hazards (Cyber, drainage, natural disasters, infrastructure failures, pandemic), and determines how you will respond and manage these issues.
2.) Do you feel the Parks and Recreation Department could make better use of its facilities? Please explain.
Yes. Scottsboro has excellent facilities utilized by our residents, as well as outside events that help generate revenue for Parks and Recreation and local businesses. Last year alone, there were over 900 games at our facilities, including State, recreation, and travel ball tournaments. COVID-19 has severely limited the ability of the Parks and Recreation Department to take full advantage of this resource. Additionally, Rec-Com management has had to respond to direction from the Mayor now and prior to COVID. This includes direction regarding facility access, fees, hours of operation, events that can be held and unexpected and unannounced staff reassignment to other departments. That direction negatively impacts the Rec-Com staff's ability to promote and support activities, ensure facilities are prepared and plan/conduct outside tournaments and other events.
3.) Are you satisfied with the current condition of city roads? Please explain.
No. Scottsboro's streets are incredibly deteriorated. As I stated previously, we should never leave budgeted money for resurfacing streets on the table at the end of the year. We have paving season here that can last up to 8 months. We will develop a plan through communication and collaboration among the Mayor, City Council, and impacted department heads that will utilize all budgeted funding, as well as any other paving funds we can access, so we utilize the full paving season we have here.


ROBIN SHELTON – Mayor
1.) What are three top issues facing Scottsboro, and what are your solutions to those issues?
(a.) Our road conditions must improve. During the past four years we were obligated to complete some projects in the works (Clemons and Ridgedale Road) and replacing the Parks Avenue bridge plus paving. Different sources of funds were utilized to pay for these projects. Moving forward funding sources are: 2019 State Fuel Tax, Annual Fuel Tax, Oil Windfall Trust Funds. This equals approximately $450,000 annually. Scottsboro has 200+ miles of roads plus recreational complex parking lots needing repair. We also maintain roads in the Scottsboro Industrial Park. Currently the cost to pave 1 mile of city streets is about $130,000 – under ideal conditions. A quote for resurfacing County Park Road was $185,000 and to repair/re-pave College Avenue was $175-200,000. Additionally, we work with Scottsboro WSG to coordinate their major repair efforts with our paving plan – one example is the current delay on paving/repairing some of Kyle St. Since 2017 we have paved/repaired 26 roads in Scottsboro utilizing $1.6M of various funding sources. The Mayor can only spend what the Council allocates for street paving. Ask the candidates running for City Council if they are committed to allocating additional funds for street paving and drainage work?
(b.) Jobs/Economic Development – We need to diversify our job market and attract higher-paying jobs as well as work with our existing local industries. I work with the local and state EDA, North Alabama Industrial Development Association (NAIDA), the Department of Commerce and local developers to market and promote available resources to those seeking to relocate or expand their businesses. New/expanding industry looks for: Property/buildings readily available, interstate/divided highways, utilities/WSG and Workforce/skill level available. Because of our close proximity to Huntsville and Chattanooga we are actively seeking industry/jobs related to military and defense, automotive-related expansion, etc. The recent improvements at the airport will help us attract the growing aviation-related jobs coming out of Huntsville. We are working with local junior colleges to establish an aviation apprentice program at our local airport. Additionally we are exploring the possibility of utilizing another industry recruiting tool which is a private daycare for local industry located inside or within close proximity to the Industrial Park.
(c.) Housing – Working with developers and expanding the housing market will attract more families to our area which will lead to more retail sales and jobs. Where there is growth; retail, restaurants, entertainment, etc. will follow. We must take advantage of the housing demands coming from the greater Huntsville area. This alone could be a huge economic engine for our community. The city owns 600+ acres of land near Goose Pond Colony. As we explore the best use of this property we need to make sure what is developed helps maximize the nature and amenities now offered by GPC.
2.) Do you feel the Parks and Recreation Department could make better use of its facilities?
Yes – Grossly under-utilized. We must take the lead on attracting travel groups like baseball, softball, soccer, volleyball, swim, basketball, tennis, etc. We cannot continue to wait for these different travel organizations to come to us. We must take advantage of the various Scottsboro City School programs that utilize our facilities by encouraging/assisting with tournament play related to school activities. More visitors = more revenue. Grow and expand our senior services and after-school programs. The boat ramp expansion at GPC is paying great dividends. We now need additional lodging and entertainment venues. New incentives now offered by the state gives us opportunities to attract private investors.
3. Are you satisfied with the current condition of city roads? Please explain.
No, progress made but much still to do. We can afford to invest more money into our streets. See 1. (a.) above.


RALPH DAWE – City Council Place 1
1.) What are three top issues facing the city of Scottsboro, and what are your solutions to those issues?
a. Infrastructure. Our roads and signage need immediate attention. We must locate appropriate funds every budget year to repair city streets and install or repair street signage. All citizens deserve decent city streets and roadways.
Prospective businesses and new residents notice these things, and if we maintain them well, it will make Scottsboro more attractive for their decision to move here. We also need to form an efficient and effective anti-litter program. Perhaps using inmates supervised by city employees. We must keep Scottsboro clean and attractive for all citizens.
b. Employees. The mayor and Council must improve wages and benefits for our employees. Our employees act as our backbone of keeping our city operating smoothly, efficiently and safely. I believe if we treat our employees with respect and have fair compensation and benefits, they will perform their jobs better, and we will lose fewer good employees to other jobs or neighboring cities.
c. Zoning and Building Codes. If elected I would like to re-visit our existing zoning and building codes by forming a committee to study what issues are discouraging small businesses and new residents from moving to our beautiful city. I have spoken with many people who have stated that it was much easier to build or develop their projects or business ventures outside of the city limits or in other cities.
We should be asking prospective businesses or new residents what we, the city, can do to assist them with these projects or business ventures. I think it is a win-win for everyone if the prospective builder or business venture builds here where they want to. Then the tax dollars created by new business or residential homes mean more funding for roads, city services, fair employee wages, etc.
2.) Do you feel the Parks and Recreation Department could make better use of its facilities? Please explain.
I do feel very strongly that the Recreation Department can make better use of its facilities.
As I have spoken to Scottsboro residents about issues they may have, many have shown disappointment with the Rec-Com and its lack of hosting tournaments and the lack of use of our beautiful recreational facilities.
In 2016, the city demolished the old Veterans field and built a new baseball field for millions of dollars. It was projected to host tournaments and local baseball games. To my knowledge and other concerned citizens', not much activity has happened there this summer. We have great recreational facilities: gyms, baseball, softball, basketball, swimming, soccer, tennis – and they all should be promoted and used much more than they have in the past.
3.) Are you satisfied with the current condition of city roads? Please explain.
At this point, our roads are in bad shape. The city has paved some roads using budgeted funds and road grants while other roads have been neglected. I believe city roads should be paved every year and prioritize the worst roads, repairing them first. The city council should allocate adequate funds each year for this purpose. We should also continuously apply for road improvement grants for our city to assist with budgeted road paving funds.


GREG MASHBURN – City Council Place 1
1.) What are three top issues facing the city of Scottsboro, and what are your solutions to those issues?
(a) Industry- Scottsboro has been on a downward trend in population and job growth for many years. We need to shore up our contacts in Washington and Montgomery. I will always support any efforts by the Commercial Development Authority, Industrial Development Board and Jackson County EDA. We are multifaceted in transient from the river, railroad, Hwy. 72 and the airport. We have these major access points that need to be expanded upon and utilized. Industry is by far the most important facet of growing our economy from the ground up. We also need to support our major industries in our town that have invested in our city.
(b) Small Business- I always encourage the growth of the small business. Investing in small business fosters creativity, and it shows that we are invested in our community. I am for working with the Business Council to look at what avenues would be helpful to grow them successfully.
(c)Tourism- Tourism is one the most important economic drivers in our city. We are very blessed to host major bass tournaments, but we have to expand our vision. I have looked at other local cities, and I have seen where they have embraced change. For example, they have applied and received money for walking and biking trails throughout their city. It's all about cultivating a vision and bringing it to fruition.
2.) Do you feel the Parks and Recreation Department could make better use of its facilities? Please explain.
Yes, however, the Rec-Com maintains: 8 ball fields, 6 tennis courts, 4 soccer fields, 2 gyms, 2 racquetball courts, 3 playgrounds, 3 outdoor basketball courts, 1 pool, a splash pad, 9 batting cages, 2 pitching lanes. They also maintain Veterans Memorial Park and the walking track. They also mow 46 acres of grass and service their own equipment.
There have been 900+ games played involving baseball, soccer and softball all while employing 10 people. There were 14 tournaments scheduled while playing seven tournaments last year. I am for hosting more tournaments in all sports, but the issue would have to be addressed in budget meetings to cover staff shortages.
3.) Are you satisfied with the current condition of city roads? Please explain.
No- We have to continue to budget money to stay on a consistent paving schedule.
We need to base the list on homes passed and the condition of the street, bid the jobs within an appropriate time frame and stay on schedule.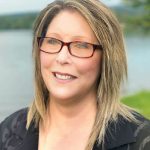 1.) What are three top issues facing the city of Scottsboro, and what are your solutions to those issues?
The city needs better risk management and crisis management planning to prevent our city from enduring loss and suffering the effects of limited resources. During the corona virus pandemic, our town faced food and meat shortages, limited resources for essentials and experienced loss of jobs. We need to focus on plans to protect our infrastructure, economy and food chain supply. We should build additional business relationships that can help provide for our community's needs. Our leadership should also focus on infrastructure stability, and we need to protect our grid from destruction by hardening the grid. We can partner with grid consultants or even move overhead wires underground to prevent loss. We should execute plans that prevent as much interruption as possible during difficult times. By utilizing only one or two larger companies for resources, this not only creates a larger gathering place for contagion to spread, but it also diminishes necessary resources at that location, fuels our businesses for closing due to lack of sales, sustains further job loss and limits our food chain supply. We need to ensure that our citizens do not have to do without during a catastrophe.
Economic development and job growth are issues that Scottsboro faces. Many businesses have closed, and many citizens have experienced job loss. We could enact planning committees that go into the community to get input from our citizens and find out ways to improve business stability. What resources do we already have that we can use to make Scottsboro stand out, whereas we can develop the community and spur economic growth? Cleaning up the city and dilapidated locations entices and attracts investors to our community and makes businesses want to grow here. Not only can they find investment opportunities, but investors could utilize old buildings for businesses or even much needed housing for our citizens. Utilizing empty buildings for business feeds money right back into our community and provides additional resources. When there are more businesses, individual taxes are less affected, thereby allowing the citizens more disposable income to grow our economy and city resources.
Scottsboro should be preserving the city for our youth. We need to ensure future investments, both financially and individually. Additionally, tutorial programs should be developed to help students that fall behind in school due to lack of understanding their online curriculum during a crisis. We need to maintain educating our children even in times of crisis. These children will preserve the future of our city. Closing schools for long periods of time not only affects our children but also exacerbates health consequences for low income children and is also challenging for children with autism. Our city leaders should focus on developing professional support groups to provide resources that maintain their physical and mental health.
We should create a warm and clean atmosphere in town, so that businesses do not want to leave, thereby, preserving opportunity for future investments.
2.) Do you feel the Parks and Recreation Department could make better use of its facilities? Please explain.
The Parks and Recreation Department could make better use of their facilities, such as the pavilions, parks, baseball fields, parking lots and surrounding areas to encourage multipurpose community and family entertainment events, such as weddings, "Movie Night Out," or concerts on the river. Facility assets should also be regularly updated to ensure that we are utilizing them in the most cost-effective manner.
3.) Are you satisfied with the current condition of city roads? Please explain.
The current condition of the roads seems to be improving in Scottsboro, but we still have a long way to go. Many of the roads are either patched, cracked or still have potholes. We need to focus on the conditions of our roads, so that they will be efficient and visually inviting to investors.


PATRICK STEWART – City Council Place 2
1.) What are three top issues facing the city of Scottsboro, and what are your solutions to those issues?
a. Economic Development – The council should research, develop and implement a comprehensive plan through the coordination of the City, Economic Development Authority, Industrial Development Board, Chamber of Commerce, Jackson County Commission and Legislative Delegation. Together, we must work toward increasing the opportunity for our citizens to have a better quality of life. Offering better-paying jobs will directly and indirectly increase the economic vitality of Scottsboro. The council must also review the application of building codes, in order to encourage commercial building growth and affordable housing.
b. Road Improvements – The council has supported the funding of continuous road improvements throughout the city and will continue to support these projects. I understand the importance of quality roads in a small city, especially when our main concern is economic development. Having well-maintained roads also offers an attractive venue for businesses and industries looking to relocate and expand to Scottsboro.
c. Employee Safety – Due to the COVID-19 situation the country is currently facing, the City must work toward reassuring the safety of all its employees. Many employees and their families are facing unparalleled issues relating to health and safety concerns. Regular discussions need to be held between the council, mayor and department heads to ensure every department has the proper funding to protect its employees and allow the employees to carry out their day-to-day operations in a safe environment. Additional and more thorough discussion may also need to be held regarding those employees who have direct interaction with the citizens of Scottsboro making everyone's safety a top priority.
2.) Do you feel the Parks and Recreation Department could make better use of its facilities? Please explain.
Yes, while the Parks and Recreation Department goes above and beyond on their care of the facilities and scheduling of tournaments and other events, I do believe we can increase the number of tournaments held in Scottsboro. The council must work closely with the mayor and department head in order to identify potential within the department. The council must also be in agreement to help fund improvements to these facilities and increase staffing to help better maintain the fields and buildings. Through proper planning and coordination, the city will see an increase in visitors to Scottsboro through these additional tournaments, ultimately increasing our tax revenue.
3.) Are you satisfied with the current condition of city roads? Please explain.
No, I am not satisfied with the current conditions of our roads. I have always supported the improvements of our roads, and I will continue to do so. Being Council President, I formed a committee to review which streets were in most need of repair. The committee prioritized the list and presented it to the mayor, who later presented a list of streets scheduled for repair to the council. There were discrepancies in the committee's list and the list presented to the council. Once the council approves funding for specified paving projects, the responsibility then falls on the administrative office and department heads to complete those projects in a timely manner in accordance with the amounts budgeted. The council does not have the authority to direct department heads or employees in paving or repairing streets. I do not believe the council needs to micro-manage the administrative office or the department heads, however, the council needs to be aware and involved in all communication regarding the expenditures of taxpayer dollars. I also believe in increasing funding for future paving projects in Scottsboro.


NITA TOLLIVER – City Council Place 2
1.) What are three top issues facing the city of Scottsboro, and what are your solutions to those issues?
I have walked around and spoken with citizens in our community. Some who do not think their vote matters, but I want to stress first that their communication with council members is important. It was important enough for me to determine which issues meant the most to citizens of Scottsboro.
a. Infrastructure (roads) would be my top concern. My solution would be to find out which roads need attention based on priority. In addition, determine what funds are available and obtain a projected quote on how much it would cost to repair each road. Based on the funds available and the priority list, we would start there. In addition, this should become a permanent part of the city budget. The city should have a budget for annual, rotating road maintenance on all city roads.
b. Second, I believe that industry is an issue. It would increase once roads are addressed. My solution would be to poll the community to find out which businesses are a necessity and desired. I would also like to merge those necessities with our graduates' skills. This would encourage them to stay in our city after college and help grow Scottsboro.
c. Tourism and Entertainment is the third issue. This would become a must in order to keep the industry in our community and to draw our graduates back to Scottsboro with their families. The range of tourism and entertainment needs to address young and old. I believe we are heading in the right direction due to our efforts with our organizational groups that work on developing Scottsboro. However, there is still more work to be done.
2.) Do you feel the Parks and Recreation Department could make better use of its facilities? Please explain.
Yes, I do feel that the Parks and Recreation Department could make better use of its facilities and reach its full potential. Personal observation and experience would lead me to think that our Parks and Recreation Department should become more involved in travel sports, inviting other teams to come, stay and play in our city for the weekend. The effort would increase the revenue coming into the Parks and Recreation Department. The invitation of other teams to stay and play for the weekend would also increase the revenue for our city in areas of hotels, restaurants, and shopping centers. This use of the facilities would generate income to help our city grow. In addition, our children would also take pride in playing in their city.
3.) Are you satisfied with the current condition of city roads? Please explain.
No, I am not satisfied with the current condition of our city roads. I have learned from visiting citizens in our community that the infrastructure is the top concern. Roads in our communities connect us to others and will also increase the opportunity for more traffic coming through, increased industry, and tourism, as well as encourage other businesses of entertainment for families in Scottsboro. Currently, our roads are in need of maintenance. For this reason, invitations for new industries and businesses want roads that are in good condition. TEAMWORK, effective communication, skillful budgeting, planning and implementing the plan with our city council and the mayor can make the poor condition of our roads a thing of the past.


JULIE GENTRY – Scottsboro Board of Education Place 5
1.) What are three top issues facing Scottsboro City Schools, and what are your solutions to those issues?
a.) Education of students during a pandemic. This is a multifaceted question and answer. Resources from the cleaning of buildings and buses, the protection of personnel and students, the on-line education incorporated with in-class education, and the overall unknown about this pandemic have to be considered. While the education of students is at the forefront of every teacher, principal, and staff members' mind on campus and at the central office. There are more questions than answers, but we are trying diligently to address each and every area. Virtual learning has become a, not element of the future, but of the present. We are looking at resources to make it possible for parents, students, and teachers to learn and teach virtually with more comfort and success.
b.) The number of students has decreased over the years. Over the past 20 years we have steadily had our enrollment numbers decrease. This has been the case in Jackson County schools also. The decrease of enrollment has meant a decrease in teacher units from the state of Alabama. Over time we have had schools that had maybe half of the school utilized. Because of this we have had to close our oldest school, Brownwood Elementary. Our teachers and students have risen to the occasion of consolidating schools. If our numbers decrease as steadily as they have in the past, we will eventually have to continue consolidation sometime in the future. There are advantages to schools with at least a 300 student population, as the Alabama State Department of Education will allocate more principals/assistant principals to the ratio. Some of our older schools have issues that will need to be addressed in the future. The only solution is to increase jobs in our community, which bring in more families with students. This of course, is out of the school system's hands, but I can say we have hard-working and diligent teachers who work every day to bring a solid education to our students.
c.) Providing students with the necessary resources to move into college or the workforce. We are constantly trying to offer students further avenues to aide in their choices of college or workforce careers after high school graduation. Our goal as a public school is to educate the whole community. The world is changing and therefore the jobs in our country and the world are also changing. If we can offer students more college classes, either through our high school or on campus at Northeast Community College, we have aided them in the decisions they will have to make down the road. Also, if we can encourage and offer more of a variety of career choices at the technical school, we have achieved a plus for our students. This could only be accomplished by further funding to our schools and technical facilities, something each system tries very hard to achieve.
2.) What goals do you hope to achieve during this four-year term?
a.) Continue to manage the school systems' finances responsibly, while providing an advantageous education for our students.
b.) Continued computer training and education for students throughout the school system.
c.) Training/continuing education for school employees to keep up with the progressing needs of students.
d.) Updating and/or planning for new facilities which are/will be needed by the school system.
e.) To provide more options for classes to the upper grade students as funding will allow.
3.) Considering the current requirements put in place due to the pandemic (masking, social distancing, canceling of school events, etc.) at what point would you feel it is appropriate to move to an all-virtual school year? Please explain.
It would be necessary to move to a virtual school platform if we have up to 40-50% of our students choosing an on-line option of learning, and/or we are not able to provide adequate teachers and staff to run our schools due to the pandemic.


GARY SPEERS – Scottsboro Board of Education Place 5
1.) What are three top issues facing Scottsboro City Schools, and what are your solutions to those issues?
a. Representation and operating in the best interest of students and staff. To serve in the capacity of an advocate for the good of the community while maintaining the Governing Principles of the Scottsboro City Board of Education Policy Manual.
b. Perception of school district. The perception of fairness, honesty, transparency and integrity should be the consensus of the school board; it is not. Just attend any board meeting and experience this for yourself. Business affairs can still be performed with efficacy and respect.
c. Recruitment and retention of good teachers. More equal opportunity for hiring diversity and promoting personnel. During this pandemic, teachers should be given more Professional Development (PD) such as Schoology software and other online training sessions to equip and enable them to better handle the unprecedented challenges of virtual learning.
2.) What goals do you hope to achieve during this four-year term?
1. School Safety, beginning with COVID-19 pandemic and adherence to Center for Disease Control (CDC) Guidelines.
2. Sustaining funding for the School Resource Officer (SRO) programs.
3. Develop and implement a viable comprehensive plan for operating during unusual events and life-long virtual learning experiences.
4. Every student with access to Wi-Fi, internet services.
3.) Considering the current requirements put in place due to the pandemic (masking, social distancing, canceling of school events, etc.) at what point would you feel it is appropriate to move to an all-virtual school year? Please explain.
The short answer will be to follow all appropriate safety procedures and rigorous educational programs deemed necessary.
To collaborate and coordinate with Jackson County Health Department, Tracker data and the Alabama State Department of Education and other available resources.
No one could have predicted what we are experiencing now regarding this pandemic.
On March 31, 2010, I submitted a report called a Contextual Map entitled: "The Educational Outlook for Scottsboro City School System in 2025." There are four areas defined: Political Context, Economic Context, Social Context and Technological Context. Due to the 600 word count for this article, only Technology will be printed at this time.
Technological Context: Long-term Trends: The technology for the Scottsboro City School System will be expansive due to the many demands of day to day operations with cutting edge innovations. By installing the most available and updated technology; this will enable students to be in accord with the rapid changes and development throughout the world.
(1) Utilize the Northeast Alabama Community College recently developed Industrial Technology Center (ITC).
(1.1) Incorporate cell phones and other hand held electronic devices into the classroom to be used during instructional time.
(1.2) Students may eventually only come to school to set up their accounts and take a test at designated times and location. This trend will reduce interactions with fellow classmates and instructors will serve as advisors.
(1.3) Digital literacy will be integrated into technology due to the driving force of everyday usage.
(1.4) Educational institutions will become more innovative and creative as they seek a variety of ways to collaborate with leaders, teachers and other professional groups as they foster in critical thinking skills for professional and personal enhancement.
(1.5) Use of individual cell phones will be incorporated into the school's curriculum to drive down the cost of technology in the classroom.
In closing, again no one could have predicted we would be experiencing a global pandemic in 2020. As Americans we are resilient!
Originally published on www.theclarion.org