Click here to view original web page at www.itemonline.com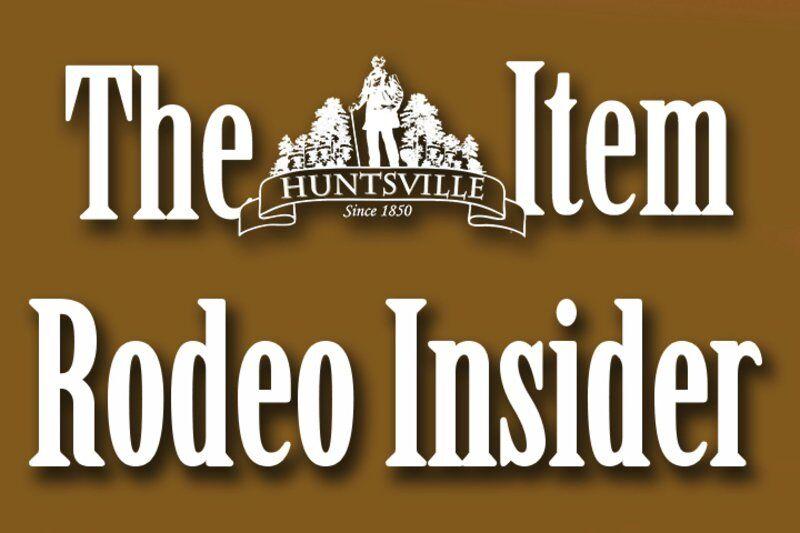 During this challenging time when many rodeos have cancelled because of coronavirus concerns, the organizing committee at the Parker County Sheriff's Posse Frontier Days in Weatherford ultimately decided to produce the traditional annual rodeo this year.
The rodeo activities in Weatherford originally were scheduled for June 9-13, but the Professional Rodeo Cowboys Association shows were rescheduled.
The PRCA Xtreme Bulls took place on July 7. The PRCA Rodeo was July 8-11.
During the PRCA rodeo, two-time Wrangler National Finals Rodeo qualifier Bill Tutor of Huntsville tied for first in bareback riding with a score of 88 on a bronc named Painted River, which also is owned by Pete Carr Rodeo. He tied for first with Leighton Berry of Weatherford who turned in an 88 aboard the Carr bronc Miss Texas.
Tutor is ranked No. 21 in the PRCA's 2020 bareback riding world standings (released on July 13).
Six-time National Finals qualifier Sterling Crawley of Huntsville tied for fourth in saddle bronc riding with an 81.5. Crawley also tied for third in saddle bronc riding at the July 8-11 Dinosaur Roundup Rodeo in Vernal, Utah, with an 84.5. After all that, Crawley is ranked No. 9 in the PRCA's saddle bronc riding world standings.
During the Xtreme Bulls show on July 7, three-time Wrangler National Finals Rodeo qualifier Jeff Askey, who lives in the Athens area, tied for first with an 88 aboard a bovine named He Reigns, which is owned by the Lancaster & Jones Pro Rodeo. Askey earned $3,414.
Askey said he was elated that the Weatherford rodeo organizing committee opted to produce the rodeo this year.
"I was glad they did it," Askey said. "A lot of these rodeos are just cancelling. Rather than cancel but completely rescheduling gives us an opportunity to go and make some money and get out and rodeo for a living."
The tie for first in Weatherford was a bright spot for Askey who did not fare very well during the July 4 week. He placed at only one of the five rodeos he entered and that was the July 2-4 PRCA show in Oakley, Utah, where he tied for sixth in bull riding with a score of 80 and earned $520.
"It was a pretty slow week for me as far as getting any checks," Askey said. "So, it was nice to kind of turn that around [in Weatherford] for a night."
Askey is ranked No. 12 in the PRCA's 2020 bull riding ndings.
Askey tied for first at the Xtreme Bulls show with four-time National Finals qualifier Trevor Kastner who turned in an 88 aboard a bovine named Shagga, owned by the Rafter H Rodeo Livestock firm.
Four-time world champion Tuf Cooper, who has homes in Weatherford and Decatur, won the steer roping second round at the PRCA rodeo with a 10.2. Cooper is ranked first in the PRCA's 2020 world all-around standings.
Four-time National Finals Steer Roping qualifier Jarrett Blessing of Paradise clinched the steer roping title with a three-run time of 35.2.
In team roping, former National Finals qualifiers Ryan Motes of Weatherford and Coleman Proctor finished first in team roping with a 4.2.
Brody Yeary of Morgan Mill clinched the bull riding title with an 88 on Pete Carr Pro Rodeo's Concho Lizzard. Other champions were steer wrestler Shade Etherton (3.3 seconds); saddle bronc rider Jake Finlay (87.5 points on Pete Carr Pro Rodeo's Cheap Thrills); tie-down roper (Hunter Herrin, 7.7 seconds); and barrel racer Jill Tanner (17.27 seconds).
Cutting horse update
Forty years ago, Lindy Burch of Weatherford, Texas, became the National Cutting Horse Association's first female rider to win the open division title at the NCHA Futurity, the sport's most prestigious show.
When the NCHA Metallic Cat Summer Spectacular began on July 10 at Will Rogers Memorial Coliseum in Fort Worth, Burch, who is a longtime cutting horse industry insider, was the first competitor to make a 2 1/2-minute run aboard a horse named Reys Delight to kick off the 20-day show. The duo turned in an above average score of 219.
The 2020 Summer Spectacular, which runs through July 29, is seeing some changes because of coronavirus concerns. Fans and competitors must wear masks in the coliseum unless they are riding a horse or making a competitive run. Also, parties and awards banquets have been canceled.
"It will be kind of a bare-bones cutting," Burch said. "But at least we get to cut."
Cutting horse competitors were denied the opportunity to compete in the Super Stakes, a sister show in Fort Worth that was canceled because of COVID-19. The Super Stakes was scheduled for March 24-April 18.
"We were really sad and disappointed when we couldn't have the Super Stakes," Burch said. "So it's good to have the summer cutting when a lot of states are still shut down. We're very lucky."
PBR update
During the past weekend, Professional Bull Riders competitors rode before fans at the Danny Sanford Premier Center, an indoor arena in Sioux Falls, South Dakota. They had been riding for several weeks before no fans at the South Point Arena, an indoor arena in Las Vegas, leading up to the Sioux Falls show that was the July 10-12 Monster Energy Team Championship. Team Cooper Tires (Jose Vitor Leme, Sage Kimzey, Keyshawn Whitehorse and Stetson Lawrence), clinched the title. Leme, a former PBR World Finals qualifier from Decatur, won the MVP title. The action was televised by CBS and the CBS Sports Network.
Brett Hoffman, a Texas Cowboy Hall of Fame member, has reported on rodeos and horse shows for the Fort Worth Star-Telegram for more than 35 years. Email him at [email protected].
Support local journalism.
We are making critical coverage of the coronavirus available for free. Please consider subscribing so we can continue to bring you the latest news and information on this developing story.
Originally published on www.itemonline.com