Click here to view original web page at www.uah.edu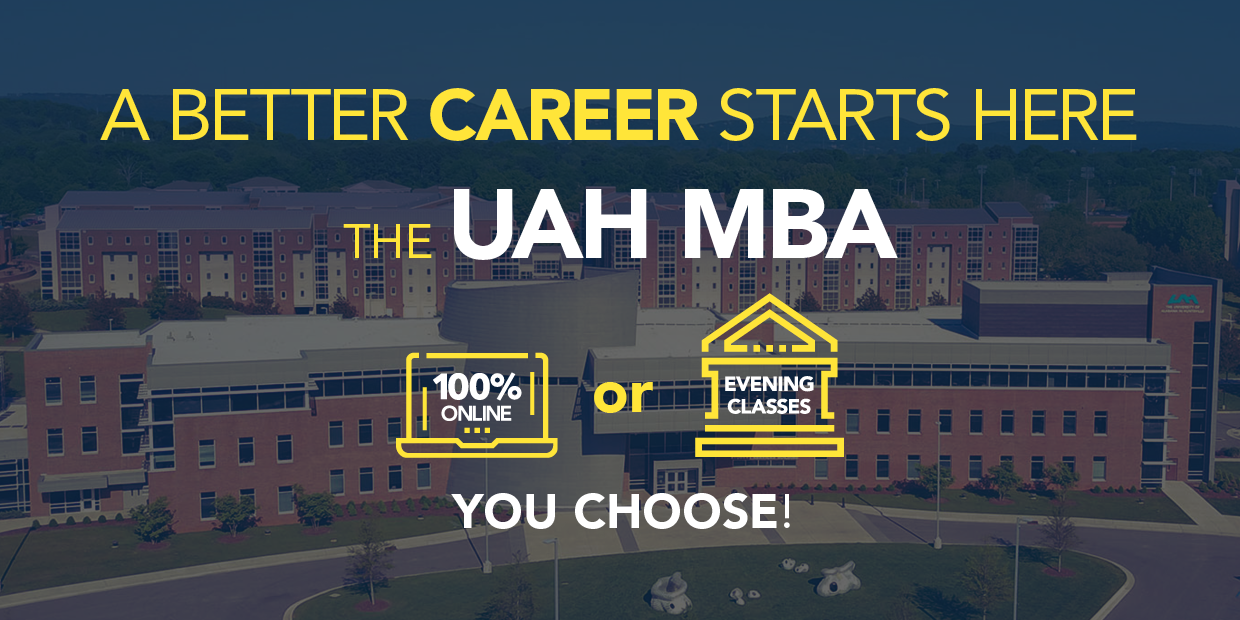 Beginning with the fall 2020 semester, The University of Alabama in Huntsville (UAH) College of Business will begin offering an online option toward achieving a Master of Business Administration (MBA).
"We are excited to give students this additional option to complete their MBA with even more flexibility," says Assistant Dean of the College of Business, Jennifer Pettitt.
This plan to provide an alternate path to an MBA has been in the works since well before the current COVID-19 crisis. In fact, online education is nothing new to UAH and the College.
"The College of Business has had fully online graduate programs since 2014," says Dr. Jason Greene, Dean of the College of Business. "Our faculty have also offered certain courses in the MBA program online over the last several years. However, fall 2020 will be the first time that a student can start the MBA program and complete all of their courses online."
This foresight in establishing an online program placed the College ahead of the curve when it came to positioning students to meet today's educational challenges. This head start has enabled the faculty to fine-tune the virtual program to ensure an online MBA meets the same rigorous standards required of the traditional classroom student.
"We started planning our online MBA last year," Pettitt says. "Our top priority was to make sure that our online courses would be the same high-quality experience for our students as for our traditional evening courses. Then when we were faced with the challenges of the pandemic, we were certainly more prepared to transition to full-online for those courses. But we also want to make sure that students know that our MBA courses are specifically designed to be online. We say we are 'Online, On-Purpose.'"
Dr. Greene shares this assessment. "Online learning is a transition for students, too," he notes. "We believe our online MBA is a great fit for students who want a high-quality business education, with the flexibility of online learning and the option to take some courses on-campus or the option to meet with students or other faculty."
Pettitt has a ready answer for anyone who wonders if the online MBA offerings will differ in any way from the traditional in-class course offerings.
"The online and on-campus MBA curriculum are exactly the same!" she says. "A student can complete our program in two years as a part-time student; the majority of our students work full-time and progress through the program taking two courses per semester."
Dr. Greene adds, "We prefer to think of them as simply one MBA program with two great options: take online classes, on-campus evening classes, or whatever mix you prefer. Either way, students have the same access to our outstanding faculty and the confidence of an AACSB-accredited program that is built for our Huntsville community."
This uniformity of program ensures the goals established with an MBA from UAH won't differ in any way from in-class learning goals.
"The learning goals are exactly the same, whether you take courses online or on-campus in the evening," Dr. Greene explains. "These goals reflect what we know students need to advance their careers in the high-tech environment of Huntsville. The methods of reaching the learning goals are tailored to make the most of the online environment or the on-campus environment, whichever mode the student chooses."
These goals include achieving a full understanding of the foundational business functional areas, being able to critically analyze and evaluate information to make decisions, using analytical methods to solve problems and learning to effectively communicate. What makes the UAH MBA program unique is that these online courses are specifically and purposefully designed for online learning.
"We are not just putting a camera at the back of the classroom and offering recordings of what the on-campus students get," Dr. Greene says. "Rather, our faculty have invested time in using state-of-the-art approaches to help students reach their learning goals."
The admissions requirements for applying to the MBA, regardless of format, will remain the same, as well.
"We have three steps to apply," Pettitt says. "Complete an application, provide official undergraduate transcripts and submit a GMAT or GRE score (unless the applicant qualifies for a waiver). Our temporary GMAT/GRE waiver criteria will allow more applicants to qualify for a waiver."
To qualify, an applicant must meet one of the following criteria:
Achieve a 3.0 cumulative undergraduate GPA;
Possess five years of professional work experience and a cumulative GPA of 2.8 or higher;
Have completed a master's degree previously.
"We currently have three official concentrations that students can pursue in their MBA," Pettitt notes. "Engineering Management, Federal Contracting and Procurement, and Technology and Innovation Management. We will continue to evaluate the demand for adding additional concentrations."
These concentrations are tailored to target not only changing market requirements, but also to support the most sought-after skillsets.
"Our current concentrations reflect demands by students and employers in Huntsville's high-tech marketplace," Dr. Greene says. "You are likely to see us add concentrations to our MBA program over time, based on student demand and the expansion of the economy in Huntsville and the North Alabama region."
The College of Business offers specialized master's degrees in six areas.
"Our MS in Information Systems and MS in Supply Chain Management are both offered fully online," Dr. Greene says. "In addition, we have programs in accounting, business analytics, cybersecurity and human resource management that are each offered on-campus during the evening. Some courses in the evening programs are also available online. Students in our MBA program can take courses from these areas as electives to help customize their program to meet their career objectives."
In addition, online students will have access to all the same resources as traditional classroom students.
"Students will work with a Graduate Advisor to plan out their MBA program, semester-by-semester, taking the courses in the format that they prefer," Pettitt says. "Our students will have the flexibility to choose!"
The UAH College of Business has earned reputation for maintaining and fostering strong connections and partnerships to the business community in today's rapidly changing global economy. Online students will continue to benefit from these connections and networking opportunities to focus on experiential learning that goes beyond textbooks and lectures.
"We are fortunate to have outstanding partners in the Huntsville community who recognize the high quality of the students and programs at UAH," Dr. Greene explains. "These companies are eager to provide internships and experiential learning opportunities for our students. Our faculty are also intentional in building experiential learning activities into coursework and deliberate in how they design those activities to match the online or on-campus nature of the course and situation of the students. We like to think our online program provides the best of both worlds. For those outside our region, they still benefit from the excellent online content that adds value to our program."
Online students will be encouraged to attend events hosted by the College, such as guest lectures and panel discussions. These events will help connect students to faculty, to each other and to the business community.
"Students can choose to attend virtually or are welcome to come to campus if they prefer," Pettitt says. "Connecting with our community leaders and learning from their experiences and insights is an invaluable part of a student's MBA education."
Online students will still be able to avail themselves of the opportunity to gain real-world experience with leading companies and agencies in Huntsville.
"Absolutely," Pettitt says. "Leading organizations and companies, including those located in Huntsville, engage with our students through projects and guest lectures and continue to recruit our high-quality students!"
Pursuing an online MBA with UAH will help prospective students in ways that can augment traditional classes and provide flexibility of learning.
"We recognize that our graduate students are juggling a lot—career, family and their education," Pettitt says. "By giving them flexibility with how they complete their MBA, we hope to lessen the burden they may have with scheduling all of their life activities. Students will still have the benefit of utilizing all UAH campus resources virtually or face to face. I think this on-campus access is particularly comforting to those students that may not have taken online courses before."
Leadership skills are vital to advancement in the business world. The College intends to ensure the online MBA experience will still be able to build these interpersonal skills remotely.
"Strategic leadership skills are heavily in demand, and our online program is intentionally designed to prepare working professionals to advance in their careers and to be prepared for leadership challenges," Dr. Greene says.
As working from home becomes the new normal for many employees due to the pandemic, more and more work teams are having to collaborate remotely.
"Students will work on team-oriented tasks, such as projects and business simulations, which require a great deal of collaboration," Pettitt says. "Communicating effectively through writing and verbal and nonverbal is a skillset that is critical for managers, and our MBA students will get to hone those skills in our online program."
Past students have expressed how rewarding it was to work with other students with varying stages of experience in their careers, as well as the opportunity to enjoy a diverse learning experience. The online MBA promises to continue this tradition virtually as well.
"Our MBA program puts the latest technologies to use to immerse students in the learning experience, including connecting students in the program with each other," Dr. Greene points out. "We include all of our students to collaborate and network with each other virtually or in-person on the UAH campus or elsewhere in our community. Though the pandemic may limit some of the in-person events we will have in the immediate future, we have provided more networking events and opportunities over the last few years and will continue to offer and expand these in the future."
Originally published on www.uah.edu