Located just 15 minutes by car from Huntsville, the new Toyota Field is perfect for corporate functions, banquets, wedding receptions, fundraisers, social events and more. It is a home of the Rocket City Trash Pandas, a Minor League Baseball team of the Double-A South.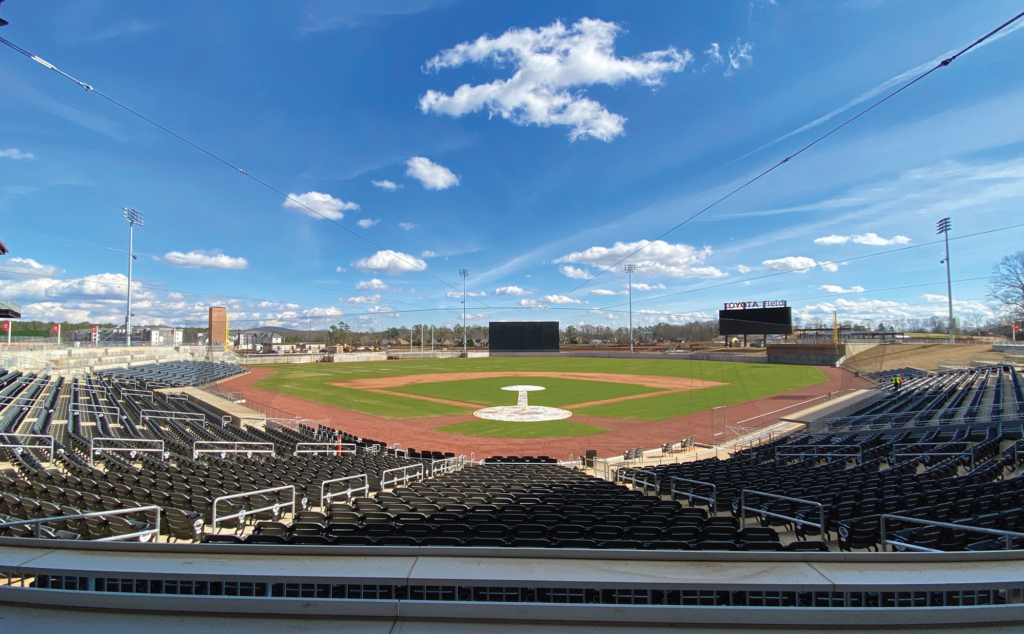 The Trash Pandas will be hosting a wide variety of CDC-compliant stadium events all throughout 2020, including kids camps, happy hours, live music, fireworks, and more!
Toyota Field has versatile spaces from climate-controlled areas to various outdoor options to create an unforgettable experience.
Upcoming Events:
Business owners, marketers, and promoters will have the opportunity to showcase their business at this year's Rocket City Trash Pandas Business Mixer & Expo!
Date: April 6
Location: Toyota Field
Time: 3pm – 6pm (Toyota Field Gates will open for booth setups beginning at 1pm)
The Mixer & Expo will be a fun-filled afternoon featuring door prizes, music, and food and drinks will be available as the anticipation builds towards Rocket City Trash Pandas 2021 Season.
30+ rides and shows plus numerous games and activities in the Toyota Field parking lot.
Date: April 8th – April 18th
Location: Toyota Field
Time: 4PM each weekday and 1PM on weekends
Admission: $8 per person Monday-Thursday, $10 from Friday-Sunday, and it is free for ages 5 & under. All-day, all-inclusive ride wristbands are $28 per person Monday-Thursday and $35 per person Friday-Sunday if purchased in advance.
Ballpark Tours
Tour stops may include the Trash Pandas clubhouse, press box, visitors' clubhouse, dugouts, on deck circles, suites and club level. Tours may not be available on days that coincide with baseball games. Groups must have a minimum of 10 people.
Contact: Maddison Kendrick at [email protected]
Reservation: 256-517-3733
Location: Toyota Field
Admission: $10 per person, the 45-minute tour
See you there!
View this post on Instagram
Source: milb.com