Click here to view original web page at www.rocketcitynow.com
The idea all started while Jordan & Austin were stuck at home when schools closed down, and now it is a full-blown business.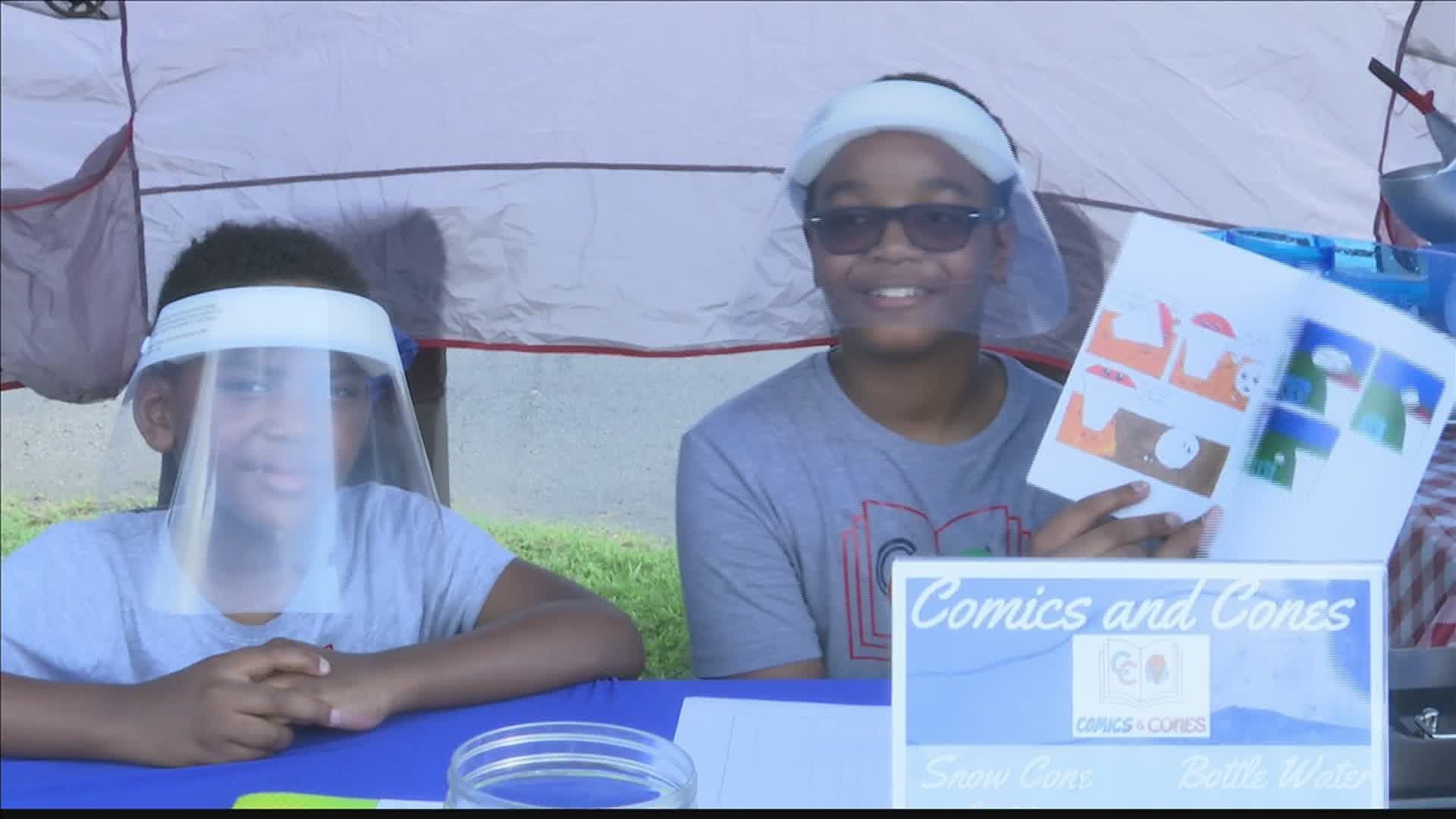 HUNTSVILLE, Ala. — In a time when the world has felt sour, two young Huntsville men are hoping to bring you something sweet.
Twelve-year-old Jordan Tucker and eight-year-old Austin Tucker are the owners, business license and all, of "Comics and Cones."
Their goal may seem simple.
"We are making sno-cones and selling comics books," explains Austin.
Yet this business was born in a complicated time, in a pandemic that has put our lives on pause. But this allowed Austin and Jordan to put their dreams into play.
"Now that we are not in school and not going to work as much, you have time to do the things that you never really got to do."
With the help of their parents, they are on a mission to do what they do best.
"Making people happy," says Austin, as we asked him about what his favorite part of the business is.
They are creating smiles, that cannot be his behind a shield or a mask.
And on a hot, North Alabama day, there is nothing more joyful then a bite of cold flavored ice.
"A lot of people are going through hard times right now and they need something to motivate them," shares Jordan.
Their comic books are called "The Adventures of Snowball and Conehead." The stories are based on their lives. Snowball is Austin and Conehead is Jordan. In the books they go on all sorts of adventures.
Some of the stories are real...
"My little brother came into my parents room and started flexing and said 'Welcome to the gun show,'" laughs Jordan.
Some of the stories have a twist of fantasy...
"The superpowers are based on the flavors of sno-cones we have. So my favorite is Blue Raspberry, and that for me, is the power of music - which allows me to ride on sound waves," says Jordan.
"I can like turn into this big cube of ice, so that I don't melt," says Austin of Snowball's super powers.
This love of comics started before Jordan and Austin were even born. Their parents names are Archie and Veronica. Yes, like the famous comic book series. Now Jordan's lifelong love of art will be taking life in these comic books, which are now in the final draft form. People can now preorder to get the real thing!
Jordan read us part of the comic book, which is actually one of Austin's favorite parts: "What did the sno-cone say to the snow ball? I said 'Roll Tide' and kicked him down the hill."
One day Jordan hopes to be a digital artist and Austin hopes to be a basketball player. But for right now, they plan to keep growing their business and spreading joy.
They are learning a lot about finances through "Comics and Cones." They are learning to pay taxes, tithe, and save up money. They both said they are saving money to go to a good college and buy a nice home for themselves and their parents. But they do get some of the money, to keep for themselves.
"I want to try to buy a new skateboard, because mine is kind of broken," says Austin.
But Austin and Jordan show us that good things can come out of times in life that seem broken. And although we may not have super strength like Conehead, we do have the power to give new things a try.
"If you want to start a business, just go for it!"
To find out where they will be serving sno-cones next and to order a comic book, go to their Facebook Page - "Comics and Cones."
Originally published on www.rocketcitynow.com