Click here to view original web page at www.theredstonerocket.com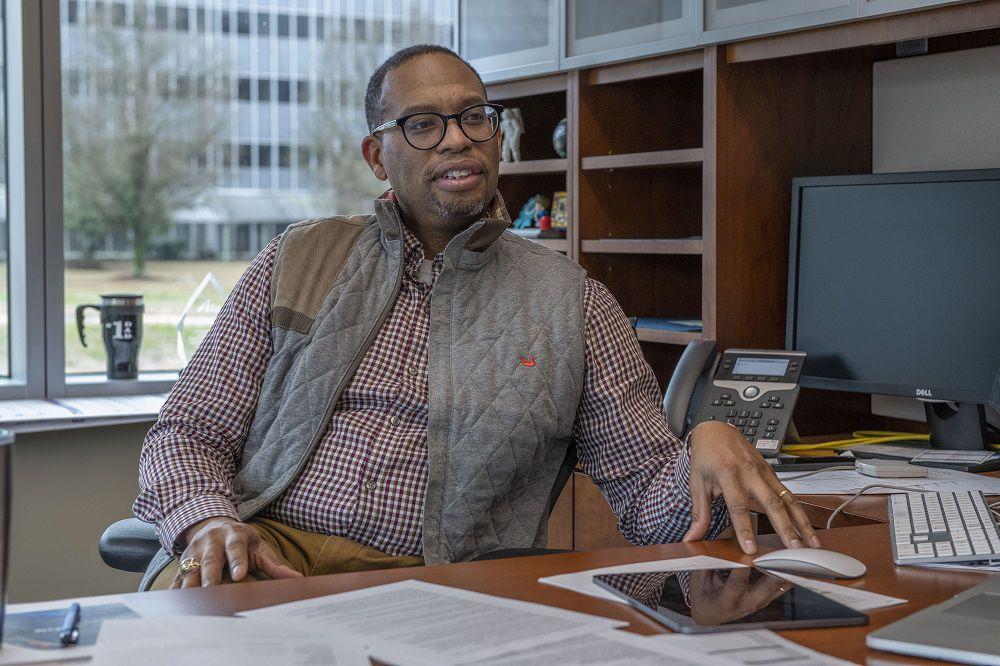 Growing up in tiny Kossuth, Mississippi – a farming village of some 200 people – Reggie Alexander recalls afternoons with his brother, exploring the galaxy on TV with the starship Enterprise crew on "Star Trek."
Back then, he never imagined he would one day guide development of spacecraft and propulsion technologies supporting exploration missions, including those part of NASA's Artemis program. The agency's lunar program includes landing the first woman and next man on the Moon in 2024, establishing sustainable lunar exploration by the end of the decade and getting ready for human exploration of Mars.
Since fall 2019, Alexander has managed the Partnerships & Formulation Office, part of the Science and Technology Office at Marshall Space Flight Center. His team and its industry partners are pursuing some of the most ambitious work Marshall has undertaken since the Apollo-era Saturn rockets and space systems designed and tested in the 1960s.
"Working with our commercial partners, we analyze past development tactics and engineering documentation to formulate strategies for developing new hardware and propulsion systems and solutions," he said. The team incorporates the needs and insights of scientists and engineers across the agency, determining not just how best to launch astronauts and cargo to their destinations, but how their mission milestones and goals may refine or enhance aerospace technologies farther in the future.
"This is a whole new way of partnering to do business," Alexander said. "We set out to be more strategic in developing new work, executing current tasks and partnering more effectively with our commercial and academic counterparts."
Among its pursuits, his office is working to support commercial development of future human landing systems, one of which will begin carrying Artemis astronauts to the Moon's surface in 2024.
"With a sustained lunar presence, how do we facilitate that? What routine and special activities are involved? How do we best serve the mission and the explorers?" he said. "We ask these questions as a team – and then deliver the answers."
The Partnerships & Formulation Office also works with lunar and planetary scientists to explore options for finding and using in situ resources – materials available on other worlds to reduce the need to haul heavy, costly supplies from Earth. It also helps to refine and reduce risks associated with nuclear thermal propulsion technologies, which could speed up human journeys into deep space.
Alexander's team also pursues new cryofluid management techniques –
the ground-based and in-space storage and transfer of supercooled liquid propellants – and assesses how best to prepare for crewed missions to Mars using the lessons being learned right now in the pursuit of new lunar expeditions.
"It's exciting every day to look at our resources and breadth of expertise and put them to work, continuing Marshall's contributions to the nation's journey of exploration," he said.
During his 30-year career, Alexander has held a number of key leadership posts, including propulsion system lead for NASA's X-37 – an advanced technology flight demonstrator now being tested by the Air Force – and manager of Marshall's Advanced Concepts Office. He helped lead concept development for the Space Launch System, the rocket set to power the Artemis missions, and was lead systems engineer for a project developing technologies to ferry crew to the International Space Station.
Alexander earned a bachelor's in mechanical engineering from Mississippi State University in Starkville in 1989 and a master's in aerospace engineering from the University in Alabama in Huntsville in 1998. He moved to North Alabama in 1988 as a co-op with the Tennessee Valley Authority, before joining NASA as a thermal analyst in 1990. He completed a Senior Executive Fellows course in 2012 at Harvard University in Cambridge, Massachusetts, which helped cement his desire to stay at NASA in a leadership capacity.
"I realized what an honor it was to be part of a great legacy of engineers who put men on the Moon and today are planning the future of space transportation and solar system exploration," he said. "I spend my days doing work most engineers only dream of, creating and enabling our future in space. It's the most fun anyone could ever have."
Editor's note: Rick Smith, an ASRC Federal/Analytical Services employee, supports the Office of Strategic Analysis & Communications.
Originally published on www.theredstonerocket.com